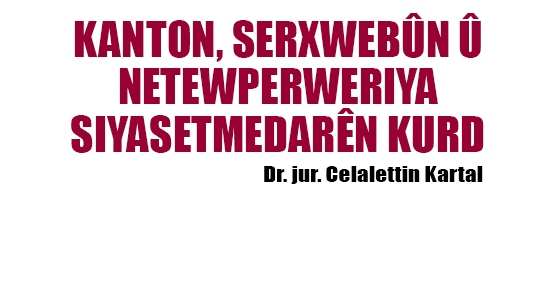 Tê gotin, ku kurd "neteweyê mezintirîn yê bê dewlet" e. "Dewletên dagîrker" neft, ax û ava wan li xwe par dikin. Ji hemû milletan re netewî, netewperwerî û dewletbûn maf e. Gote-gotên ku kurd nikarin yekîtiya xwe çêkin û bibin dewlet, ziyanekî bêhempa didin doza wan; pûç in.
I.               Otonomî, federalîzm û serxebûn
Kanton, otonomî ("xweserî"), federalîzm ("parvebûn, wekhevî"), serxwebûn tev modelên çareserkirinê ne. Di qanûna navnetewî de cihê têgeha otonomiyê tune; federalîzm jî tune. Lê ev têgeh dikarin di nava nûnerên hêz û partiyên de bi rêya danûstandinê bêne qebûlkirin. Di qanûn de ji bo kêmaran mafekî lawaz (soft law) heye. Her kêmar dikarin li gor paragrafê 27a ya PNMŞS* doza parastina ziman, çand û ola xwe bikin. "Dewletên têkildar" ji bo destxistina vî mafî gellek pirsgirêkan derdixin. Ya xirabtir, dikare bê gotin, ku hem sînorê vî mafî hem destxistina wî di emel de di destên dewletên têkildar de ye.
Tenê li Ewrûpayê nêzî du sed kêmar hene. Dewletên têkildar otonomiyê ji wan re zêde dibînin; bi gelemperî wan û mafên wan piştguh dikin. Herçiqas qanûna navnetewî de mafê serxwebûna neteweyan jî heye (paragrafa 1ê ya PNMŞSê), lê bê têkoşîn nayê bidestxistin. Heger nûnerên aliyan li ser otonomiyê li hev bikin, otonomî jî dibe rê û rêbaz. Lê otonomî nikare hemû pirsgirêkên kêmaran çareser bike. Otonomî (xweserî) tenê dikare di "dewletên demokratîk" de ji gellek kêşeyan re heta radayekê bibe despêk û riya çareseriyê. Li bi modela otonomiyê kurd nikarin neft û ava xwe ji bo pîşesaziya netewê xwe bi kar bînin. Digel vê jî otonomî nikare pêşiya bişaftina kurda bigire. Ya xirabtir, ax û mafên kurda dikarin hertim bibin cihê hedef, yanî armanca êrîşên dagirkeran.
Ya rast di deweltên demokratîk de jî pirsên neteweyan nikarin tenê bi rêbaza otonomiyê bêne çareserkirin. Nemaze pirsa kurda ne pirsgirêkeke otonomiyê ye yan jî ya wekheviyê ye. "Wekhevî" yan jî "hevparbûn" ji xwe têgeheke bi pîvanên zor û zehmet e. Pîvanên wê bi kêmasî ne. Mirov dikare bibêje, ku wekhevî federalîzm e, lê cihê wê di nava qanûna navnetewî de tune. Lê federalîzm dikare di nava nûneran de bi riya danûstandinê bê qebulkirin. Dikare bê qebûlkirin, li tê de "şirikatiyeke wekhev" û "hevpariyeke rasteqîn" nîn e. Bi naveroka xwe federalîzm dikare xweseriyeke di nava deweletekê de be. Helbet dikare şirikatî, hevparî û yekitiya pirr dewletên serbixwe be jî. Ji xwe tê zanîn, ku ji şirîkatî û yekitiya du yan jî pirr dewletên serbixwe re Rojhilata Navîn ne amade ye.
Ya xirabtir, qanûna navnetewî jî berjewendiyên dewletan esas digire, loma pirraniya kêmarên Ewrûpa jî barê êş û bişaftina (asîmilasyona) xwe dikşînin.
II. Netewperweriyê kengî dest pê kiriye?
Bi ya min mirov dikare bibêje, ku di kurdî de têgeha netewperwerî tê wateya parastina "nirxên kurdewarî" (ziman, çand, dîrok), nemaze hevkariya nava kurda, yektiya gel, ax û welatê wan, lê têgeha netewperestî nijadperestî ye. Di vir de pirsgirêk netewperestî ye. Li dinyayê netewperestî ji sala 1917ve bûye siyaseta serdest. Helbet hemû kêmar nikarin bibin netew yan jî xwedî dewlet. Lê tenê di nava van bîstûpênc salên dawî de zêdeyî pêncî dewletên serbixwe hatine damezradin. Bi îhtimaleke mezin wê di vê sedsala bîstûyekan de zêdeyi pêncî deweletên din jî bên îlankirin. Tê zanîn ku hinek dewletên Rojihlata Navîn li ber parvekirinê ne. Nexwe şansekî dirokî di barê dewletbûnê de ji kurda re dîsa derketiye holê.
Tenê dewletbûn dikare bibe garantorê geşbûn û hebûna ziman, şênbûna civakê, parastina axê û welat, çand û xwedîderketina dîroka millet. Nexwe hewcedariya kurda bi dewleteke serbixwe heye. Ya rast netewkarî (netewperwerî) ji kurda re îdeolojiyeke xerîb e, loma ew ta vêga nebûne dewlet. Ji netewperweriya rasteqîn re serxwebûn ferz e. Netewên gihayî çarenûsa xwe radestî neteweyên xerîb nake. Di dewletên netewperwer de hemû millet û kêmarên ne endamên nijadê heman netewê bin dikarin bên piştguhkirin. Lê piştguhkirina wan dikare bi riya pirr-partîbûnê û demokrasiyeke rasteqîn bê sînorkirin.
Hîmê netewî bi destên mirovên siyasetmedar, rewşenbîr û tekoşerên şoreşger tên danîn. Sedemên millet dikin netew hem zext yên ji derve û hem jî yên ji navve ne. Ji kemilandina netew û netewperwerî yê re hişyarî, herwiha şer û tekoşîna parastina nasnamê zarûrî ne. Ji bo vê yekê "siyasetmedarên kemilî", çalak û berjewendparêz ferz in. Ma siyasetmedarên netewperwer di nava kurda de hene? Heger, hebin kî ne? Dîroka wan kengî destpê kiriye?
III.  Dîroka netewperweriya siyasetmedarên kurd
Netewperwerî îdeolojiyeke ciwan e, li bal kurda ciwantir e. Ta vêga li bal kurda bi girseyî cih ne girtiye. Netewperwerî bi taybetî di raman, parastina çand û ziman, nasname û yekitiya ax ya welat û nemaze di ked û  çalakiyan de xwe nîşan dide. Di nava kurda de nav û dengê Şerefxanê Bedlisî (1543-1599) ji mêj ve eyan e. Bidlisî di pirtûka xwe de pesnê Siltanê Romê dide. Behsa "pênç dewletên kurd yên biçûk" jî dike, dibêje, ew di dewra Îslamiyetê de hatine damezrandin, lê dema behsa eşîrên Êzdiyan dike, pêşderaziyên wî dertên holê. Nexwe Bidlisî ne kurdperwer bû. Di serdema wî de fikrê netewperwerî hêj li bal kurda peyda ne bûbû.
Mîr Bedirxan Beg û Şêx Mehmud Berzencî (1878-1956) ne kurdperwer bûn? Wan digotin, ku pêşiyên wan ereb in. Bavik û silsila xwe digihandin pêxemberê Îslamê. Olperestî li bal wan nirxên girîngtirîn bûn. Bedirxan ji oldarekî tundrew bû. Dibe di barê kurdên sunnî de "kurdheziyek lawaz" li bal wî hebû, lê hinek dibêjin, "kujerê kurdên êzdî" bû. Serhildana Bedirxan ya li hevberê osmaniyan, tenê ji bo desthilatdariya wî bû. Ne tenê li bal Mîr Bedirxan herwiha kurdperwerîyek rast li bal Şêx Ubeydallah Nehrî (1826-1883/84) jî tune bû. Wî jî pêşî û bavikên xwe digihandin pêxemberê Îslamê. Ji bilî van raberbûna Şêx Seîd Pîran (1865-1925) tenê li dijî rakirina qanûna şeri´eta Îslamê bû.
1.     Di sedsaliya bîstan de netewperweriya hinek siyasetmedarên kurd
Li bal Qazî Mihemed (1900-1947) hişmendiya netewperweriyê hebû, lê lawaz bû. Wî bê tedbîrên leşkerî û bê tekoşîn hem xwe û hem Mehabad radestî artêşa Îranê kir. Siyasetmedarên netewperwer radestkirina netewê xwe bê tekoşîn qebûl nakin. Li bal Qazî hem oldariyeke tundrew û hem despotî jî hebû. Lê dikare bê gotin, ku wî bi damezrandina "Komera Mehabadê" hîmê netewperweriyê di nava kurda de danî ye. Lê ya rast piştî rûxandina Komara Mahabadê serdema siyasetmedarên netewperwerên kurd dest pê kiriye; ketiye qonaxeke nû. "Kurdperweriya rasteqîn" cara pêşî bûye para Mele Mistefa Barzanî (1903-1979). Wî xwe teqez ne spartiye "dagirkerên Kurdistan", yanî Artêsha Îran û ya Tirkiyê. Ya girîngtir, di şer, tekoşîn, ked û axafinên wî de netewperweriya wî kifş dibe. Serdema şoreşa Îraqê vegeriyaye Kurdistana Başur (1958). Çiqas bi guman be jî ne tiştekî rasgele ye ku pirraniya kurdên başûr piştî ruxandina "Îraqa kevn" modela serxwebûna kurda bi dengê xwe pejirand û bi îhtimalek mezin wê dîsa bi pejrin in. Nexwe li vî beşî kurdperwerî kêmzêde cih girtiye, lê olperestî jî wek faktoreke (hokareke) mezintirîn maye. Nemaze netew bi saya serê zanistî, hişyarî û demokrasiyê dikarin pêşkevin. Helbet divê ol û oldarî nebin hêza sereke yan jî rêbaza çavkaniyên qanûnî. Bi gelemperî dikare bê gotin, ku li başûr kêmasiyên perwerdekirina ziman, naskirina dîroka netew, bicihkirina dadmendiyeke dadimend û hemdemî, garantîkirina mafên wehkhevî û mirovan pirr in. Jixwe wê cihê ecêbê bûya heger ev kêmasiyên Herema Kurdistan tune bûna. Dîsa jî Heremê Kurdsitana Başûr dikare di wextekî nêz de serxwebûna xwe îlan bike.
2.     Die serdema me de netewperweriya hinek siyasetmedarên kurd yên bakur
Gellek zehmet e, ku siyasetmedarên kurd mafê çarenûsa xwe li hemberê "dagirkerên Kurdistan" biparêz in. Asîmilasyon û "çavsoriya" Tirkiyê li ser kurda di dome. Dagirkerê zêdetirîn kurd asîmilekiriye Tirkiyê ye. Herwiha astenga mezintirîn ya li dijî avakirina neteweya kurd dîsa Tirkiyê ye. Mînak, cihê daxê û ecêbê ye çewa ji 178 hezar zarokên serbajarê Diyarbakır (Amed) tenê 26 hezar xwendevan xwe ji "dersên bijarte" yên kurdî re dane tomarkirin. Bi îhtimaleke mezin ev hejmar hêj kêmtir e. Ji bilî vê tê gotin ku di van salên dawî de nemaze li parezgeha Batmanê (niştecîh: 534 205) û qeza Nisêbînê (niştecîh: 88 047) hima hima kurdî nayê bi karhanîn. Kurdiya tê bi karhanîn jî "kurdiyeke tevlîhevî" ye. Bi taybetî di serdema destpêka şerê çekdarî yê PKKê de (8/1984) Kurdistana Bakur ketiye tengezariyeke mezintirîn. Loma beredayî nayê gotin ku Tirkiyê di mijara helandin/bişaftina kurda de kêmzêde gihaye armanca xwe. Helbet Abdullah Öcalan, serokê PKKê, jî dizane ku bişaftin, yanî asîmilasyon cureyekî komkujî yê. Ji xwe bandora siyaseta Tirkiyê ya bişaftinê li ser hemû siyasetmedarên kurdên Tirkiyê heye. Loma dikare bê gotin ku netewperweriya gellek siyastemedarên kurdên Tirkiyê yên navdar ne kemilî ye. Heta hinek ji wan vekirî dibêjin me "fikrê Kurdistana serbixwe avête çopê" (sergo).  Çewa ne kemilî ye?
a)    Ahmet Türk
Li vir ez ê tenê behsa Ahmet Türk û Abdullah Öcalan bikim. Tiştekî dîrokî ye ku (ji bilî hevokeke Leyla Zana) Ahmet Türk cara pêşin nîvê axaftineke xwe bi kurdî (2/2009) di parlamenê Tirkiyê de kiriye. Di hinek axaftinên wî yên van salên dawî de jî xuya ye ku ew kurdewariyê, yanî kurdheziyê diparêze. Kurdhezî, wek li jor hate gotin, tenê ji netewperwerî yê re ne bes e. Helbet dikare bê îdiakirin, ku zanîna dîrokê, nemaze dîroka netewperiya kurd pê re hêj kêm e. Heger "netewperwerekî dîrokzan" bûya, ewî nikaribû behsa "ehrîşên kurda yên li ser Xiristiyanan" bike. Rast e, ev êhrîş hem di serdema Abdul Hamid II. (1895) de û hem jî di heyama jontirkan, yanî di salên 1914-1917 de rûdan e. Lê wê demê kurdperwerî yan jî netewperwerî di nava kurda de tunebû. Helbet civakeke kurd hebû, herwiha kurdewarî jî hebû, lê kurd hêj nebûbûn kurdperwer (netewperwer). Nexwe ev "hêrîş" ne yên kurdperweran (netewperweran), nemaze yên hinek serokeşîr- û olperestên esilkurd bûn. Ji bilî hinek netewperestên tirk û hinek pisporên ermenî îroj hemû dîroknas qebûl dikin, ku ev hêrîş li gor planên jontirkan rûdan û bi karhanîn. Helbet wê demê, yanî nemaze di salên 1914 ta 1917 de jî çend siyasetmedarên kurdperwer û rewşenbîren kurd hebûn, lê kurdperweriyeke bi girseyî tune bû. Vêga jî kurdên Tirkiyê bi gelemperî ne bûne netewperwer. Dikare bê îdiakirin ku ew hêj ji netewpereriyê pirr dûr in û nayê zanîn, wê kengî bibin netewperwer. Mînak, siyasetmedarên kurd yên Kurdistana Bakur bi gelemperî bi zimanê dayikê "têr" nizanin. Di nava wan de nirxên wek çand û zimanparastinê, hevkarî û yektiya kurd, parastina axê, rê û planên dewletbûnê û yekitiya welat pirr lawaz in. Loma jî hejmara kurdperweran li Kurdistana Bakur û Tirkiyê pirr kêm e. Divê bê gotin, ku di lewazbûna netewperweriya "kurdên bakur" de rola PKKê û bi taybetî ya serokê wê heye. Ma Abdullah Öcalan ne kurdperwer e?
b)    Abdullah Öcalan
Öcalan dibêje, ku gel wî baş nas nake; ew însanekî nû, jîyaneke nû û civakeke nû diafirine; romana kurdî dikare bi zimanê tirkî jî bê nivîsîn. Rast e, milletek bi zimanê xwe dibe netew, lê kurd mesela ziman şaş dinirxinin. Ji min re zimanê tirkî ji kurdî girîngtir e. Loma, Öcalan axaftina parastina xwe di Dadgeha Ewlekariya Tirkiyê de bi tirkî kir. Jixwe di hevpeyvînên wî de jî kifş e, ku ew bi "tirkî" difikire. Mirov dikare bibêje ku kurdperweriya wî pirr lawaz e. Loma ew dibêje, "em sosyalîst bûn (…)". Ta gerillayên PKKê jî bi tirkî tên perwerdekirin. Helbet tê zanîn, ku Öcalan di destpêkê de serxwebûna Kurd û Kurdîstan dixwest, lê vêga endam û alîgirên PKKê azadiya Öcalan dixwazin û hinek ji wan tenê behsa "xweseriya demokratîk" dikin. Ya xirabtir, xeseriya Öcalan behs dike nikare pêşiya asîmilayona kurda bigre. Nexwe Öcalan daxwaza mafê kêmaran ji kurdên Tirkiyê re dike. Lê Tirkiyê îro ji vî mafî re jî ne amade ye.
Heger Öcalan ne netewperwer be, ma ne kurdhez yan jî welatparêz e? Öcalan bi tekoşîn û şerê xwe yên çekdarî dîroka kurd nivîsî ye. Lê ta vêga zirara çalakî û tekoşîna wî, kêmasiyên siyaseta bi berfirehî nayên nîqaşkirin. PKKê û aligirên wê naxwaz in guftûgo û nîqaş li ser "başî" û "nebaşî" yên Öcalan bên kirin. Loma, PKKê Öcalan xistiye "tabû". Tabû cihê bawerî û qedexekirinê ye. Lê Öcalan dibêje, ew "rewşenbîrekî kurd" e û wî "nêzikî sed pirtûkî" nivîsiye. Divê Kurd "li ser hesabê zimanê xwe hînî zimanê din ne bin"; divê ew zêdetir li hev guhdarî bikin. Herê, wiha dibêje, lê wî li ser kîsî zimanê kurdî xwe baştirîn hînî tirkî kiriye. Hemû pirtûk û berhemên wî bi tirkî ne.  Dîsa li gor wî PKKê partiyeke mezintirîn demokratîk e. Mezintirîn demokartîk e, lê Öcalan ji sala 1978 ve yekane serokê wê ye. Ji bilî Öcalan ti pisporên navnetewî yan jî zanist ne gotin e ku PKKê partiyeke demokartîk e.
Rast e, Öcalan dîroka kurd nivîsiye. Lê di serdema wî de bi milyonan kurd ji Kurdistana Bakur terkeser û tengezar bûne. Nêzî bîst salan "şerekî bi gemar, giran û bê nav" li ser axa Kurdistanê hatiye meşandin. Kurdistana Bakur di barê ziman de belengaztir bûye. Şûna di heman demê de şer li ser ax û erda Tirkiyê jî bê meşandin, tenê li ser "Kurdisana hejar" gurr bûye. Herçiqas hejmara kuştiyên kurd nayê zanîn jî, hinek behsa 36 hezaran dikin. Jixwe kesek hejmara birîndaran, seqetan, koran û nexweşên din nizan e. Erd, çiya û gundên kurda bi destên dagirker hatine bobebarankirin; bi tonan jahr hatiye belavkirin; bi milyonan mayîn hatine danîn; sê hezar gund hatine werankirin; zêdeyî 50 hezarî cerdevan ji nava kurda ji aliyê dagirker ve li dijî doza wan hatine bi çekkirin. Dûbendiyek tund ketiye nava endam, alîgir, "dûajo" û "dijberên PKKê". Heger em bibêjin, Tirkiyê bûye sedema damezrandina PKKê, Öcalan ji bûye sedema terkeserî û tengezariya "kurdên bakur". Ya xirabtir bûye sedema bishaftin, yanî kokujiya kurda. Ya rast gumanên mezintirîn di barê kurdperweriya wî de hene.
3.     Kurdistana Başûr
Tê zanîn ku Mele Mistefa Barzanî mora xwe li dîroka kurd û Kurdsitan daye. Lê gelo Mesut Barzanî, serokê Herema Kurdistan ne kurdperwer e? Barzanî di hinek axaftinên xwe de behsa çêkirina "(…) maleke ji kurda re" dike. Mirov dikare bibêje, mal bi kurdî "stargeh" e, mirov di mala xwe de "ewlekar" û azad e. Ewlekarî bingeha azadî û serxwebûnê ye. Carnan Barzanî dibêje "(…) Êzdî (…) jî cihê rêzê ne, em hemû (…) tabloya ciwaniya Kurdistanê pêk tînin û (…) piştgirê hevûdû ne". Ev nerina wî, heger ne taktîk be, kurdperweriya wî îspat dike. Lê divê bê zanîn rêzdarî bê nûnertî nabe. Ji bilî Êzdiyan hemû kêmarên Kurdistana Başûr bi nûner in. Bivê-nevê ev yek netewperweriya Barzanî dixe cihê gumanan. Herwiha li mizgeftên Dihokê de carcaran hinek "meleyên tundrew", ku karmendê hikumeta Herema Kurdistanê ne, kurdên êzdî wek "kafiran" yan jî "kuffar", yanî mirovên neyarên Xwedê, îlan dikin.
IV.           Encam
Helbet divabû min netewperweriya gellek siysetmedarên kurd vekola û vegota. Lê kêmzêde di gotarê de hat xuyakirin, ku îroj di nava hinek siyasetmedarên kurdên bakur yên navdar de kurdperwerî ne kemilî ye. Dîroka netewperiya kurda pirr ciwan e. Sedemên vê yekê pirr in.
Ji kurda re siyastmedarên netewperwer, "partiyên serxwebûnxwaz", planên serxwebûn û azadiya wan, netewperwerî, "çandina tovê kurdperwerî yê" û gurrkirina wê, parastina ax û ziman zarûrî ye. Di vê sedsaliyê de jî damezrandina dewletên serbixwe wê bê westan bimeşe. Nexwe divê kurdperwer û partiyên Kurdistanî li gor vê yekê amedekariya xwe bikin. Bi kurtasî, nexwe divê pîvanên kurdperweriyê bi taybetî hişyarbûn, hezkirin û parastina ax ya welat, yektiya kurda, hişmendî û zanîna dîrok û ziman, wekhevî, qebûlkirin û wekheviya hemû ol û civakên kurdistanî bin, lê ne qanûn, rêgez, norm û şerî´eta ola Îslamê bin.
Dr. jur. Celalettin Kartal
Qanûnnasê Navnetewî û yê kêmaran
*PNMŞS: Peymana Navnetewî ya Mafên Şaristanî û Siyasî