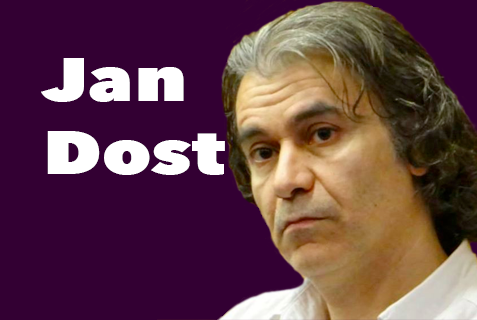 Berî her tiştî ez dixwazim bibêjim ku, çi gava di vê nivîsê de peyva "kuştin" derbas bibe, mebest jê kuştina siyasî ye, anku: tesfiyekirin û tunekirina mirovekî ji ber nerazîbûna ji bîr û baweriyê wî.
Ji bo ku nivîsa min li hewa nemîne û ez xwe di paş peyvên pêçayî û maskdar de jî neveşêrim ezê yekser bibêjim ku bûyera kuştina ciwanê kurd Welat Hisê li bajarê Kobanîyê di roja înê 9/11/2012 de durûtiya hin rewşenbîrên kurd derxiste meydanê û maska "rewşenbîrî, nivîskarî, welatparêzî û dilşewitîna li ser millet û… ku di berheman de diyar e û pere lê naçin" ji ser rûyê wan avêt.
Ew ciwanê kurd ne bi destê eskerekî artêşa tirk hatiye kuştin da ku  şairên me yên "gewre" helbestan li ser "sibeha xwîna wî" birêsin, ne bi destê rejîma Baas hatiye kuştin da ku hêsirên rewşenbîrên "quncikcî" rûpelên facebook û twiteran şil bikin, ne jî ew bi destê rejîma Îranê hatiye kuştin ku wêneyê wî di ekranan de derkevin û rojnamevanên "welatparêz" zengelokên xwe biqetînin û lanetan li rejîma kujer bibarînin, ew ne jî bi destê nivîskarekî kurd î bêcirr hatiye kuştin ku "malpercî"  xwe jê "aciz" bikin û "bixeyidin". Na, ew ne bi destê wan hemûyan hatiye kuştin, yanî bi kurtepeyvekê ew ne bi destê "dijminan" hatiye kuştin. ew bi destê "birayên" xwe, kurdên ku iddiaya parastina gelê xwe dikin, hatiye kuştin. A li vir, li vir bi xwe durûtiya wan rewşenbîran kifş dibe, ya rast ew e ku mirov bibêje: rûyê wan ê rastîn kifş dibe û mask diweşe.
Wateya bêdengiya rewşenbîran:
Di bûyereke weha de ku ciwanekî kurd, çalak û welathez bi destê "biraderên gelparêz" were kuştin, dê bêdengiya rewşnebîran were çi wateyê gelo?
Bi dîtina min, ev dikarin sebebê bêdengîyê bin:
1-      Rewşenbîr ne razîye, ji wan kiryaran, ji kuştinê bi taybetî nefret dike lê xwe mecbûrî bêdengiyê dibîne, bi kurmanciya rût "cilika bênamûsiyê davêje ser serê xwe"  da ku destkeftên wî ji destê wî neçin, yanî dibe ew mesela xebatkarek be li ba hêzeke kurdî, eger devê xwe veke (ma gelo devê wî heye?) dawetnameyeke ji bo festîvalekê dikare ji dest here, xwendevanên wî dê kêm bibin, dostên wî dê ji dora wî herin. Lê ew naxwaze wan tawîzan bide.
2-      Rewşenbîr wê yekê bûyereke rojane û ne pêwist dibîne, ma çiye! Ciwanek û hate kuştin. Dikare li her civakê bûyereke wisa biqewime. Ew dibêje ku, wezîfeya wî ne rexnekirina hêzên siyasî ye, ew "ji xwe re" nivîskar e, tenbûrvan e, ressam e, rojnamevan e, filan û bêvan e û hew.
3-      Yan jî tew "rewşenbîr" di wê baweriyê de ye ku ew kuştin, kiryar û biryarek di cih de ye, ji ber ku ewî ciwanî "zimanê xwe dirêj kiriye" û li himber "nirxên gel" rabûye! Êdî ma wê bersiva wî "xayinî" çi be ji kuştinê pêve? Gel ew mehkeme kir û hukum jî lê birrî û pêk jî anî. Gulleyek û hew.
Eger em werin van her sê rewşan binirxînin, emê bibînin ku rewşenbîrê ji bûyerê nerazî lê ji tirsa rîskan bêdeng e, ew rewşenbîrekî "ruşwetxur" e, yanî karê wî, destkeftên wî dihêlin ku çavên xwe ji kiryarên kirêt ên hêza ku ew di feleka wê de digere, bigre. Çavgirtina rewşnbîr nikare wisa wek "pêlewanî û şarezayî" were xwendin her wekî ku ew di dilê xwe de ji xwe re dibêje û xwe iqna dike. Ew ne jêhatîbûneke mezin e ku tu bikaribî xwe bi hêzeke siyasî bidî qebûlkirin û giyanê xwe yê azad bikujî, ew tenê durûtîyeke bêsînor û fêmkirina prensîbên "Mizdanîzmê" jê re divê û buhayê wê durûtî û "Mizdanê" jî windakirina nirxên rewşenbîrî ye. Windakirina exlaqên rewşenbîriyê ye. Windakirina rûhiyeta berxwedêr a rewşenbîrên serhildêr e. Mînak: eger ew ciwan, navê wî Faruk Demirtaş ba û bi destê faşistên tirkan li kolaneke Nisêbînê yan Sirûcê hatiba kuştin, gelo dê rewş çawa ba!! Ne hewceye hûn zêde lê bifikirin, dê Erdogan û partiya Erdogan hatiba soleke qetiyayî û bi "gû". Çima? Ji ber ku ziyan li wir tune, heta sibehê mesela kurdekî rojavayî biqîre: "Erdogan Kerdogan" wê çi tawîzê bide? Hîç. Loma jî li wir dê ne bêdeng be û xwe mîna serkêş û serçopiyê govenda welatparêziyê bibîne.
Hêza rewşenbîr a jibîrbûyî
Eger rewşenbîr bi hêza xwe ya rûhî û manewî nizanibe, yan jî nexwaze wê hêzê bike desthelateke exlaqî li himber desthilata "netewî/mîr" û bi kar neyne, yanî guh nede "kurmê darê" û tenê berê xwe bide tefşo û tevrên ji derve tên, wê demê pirsek li ba mirov dixuliqe, gelo ka ji rewşenbîriya wî re çi maye?  Ev çi cûre mexlûqat e gelo? Û ma rast hêzek di hindirê wî de hebe!
Ji xwe em wê bêdengiyê mîna guhnedana bûyerê bixwînin, ew karesata mezin e, wê demê guman diçe ser cîhana rewşenbîriya kurdî bi tevayî, gelo çi ne ew pirsên ku rewşenbîrên kurd mijûl dikin? Eger kuştin tiştekî wisa mîna "qurtek av" derbas bibe, ka êdî çiye ew mijûlîya rewşenbîr a mezin! Çi mijar dikarin vî rewşenbîrî bi ziman bikin û "gem" a ku li ser devê wî ye rakin?
Hema ku rewşenbîr -li gor haletê sêyemîn- bi xwe ji wê kiryarê razî be, êdî divê em bibêjin ku mesele nema rewşenbîrî ye, mesele bûye "azepiya axayan" û dûvikiya hêzên siyasî. Rewşenbîrê ku xwe siya hêza siyasî bibîne, ne ronî û çiraya li pêş siyasetmedaran, ne rewşenbîr e. Di payton û erebaneya "partiyan" de heta ew ne hesp e jî lê tenê "qamçî" ye.
Kengî rewşenbîrê durû hêrs dibe?
Ew rewşenbîrên durû, gava mesele dibe mesela "namûsê",  yanî ku tu hema bi serê zimên bibêjî "pozê" berhema te xwar e, yan tu rexneyekê di nivîsekê de lê bikî, bi rengekî ne rasterast be jî ewê qelema xwe "rep" bike û hêrs bibe, hêç bibe û di bin guhê te de nivîsekê diçerpîne! Eger dijûneke ne di rê de, di halekî hêrsê de were kirin, namûs û xîret tê hemî rewşenbîrên "welatparêz" û ew radibin ser "tapanan" û bi yek desmalê govendê germ dikin û ji yek kevanî tîran diavêjin, dîwarê nizmik e hemî tên xwe di ser re davêjin û hêza xwe didin xuyakirin, lê hema kuştin, xwînrijandin, şidet (wek mînak: bûyera Yeqîn. H li navenda Mersinê û bilî wê jî) ew hîç in, ma çiye qey! Kesek hate kuştin, çend boks di devê hunermendekî de lêxistine, tenbûra wî şikandin, defa wî qetandin, çi tu meseleyê mezin dikî camêr! Fitne ye ha, tu bi êgir dilîzî wey! Civakê şêlû neke û li hev nexe.
Rewşenbîrên "hureyrî" û buhayê bêdengiya wan
Mirov dikare nav li van kesan bike rewşenbîrên "hureyrî", ku Ebû Hureyre sehabeyekî pêximber Muhemmed bû di şerê li ser desthilatdariya islamê de her kes razî dikir û gotineke wî ya navdar heye: nimêj li pê Imam Elî xêrtir e, xwarin li ser sifra Muawiye çivirtir e û dev ji şer berdî çêtir e.
Hêzên siyasî, bi taybetî yên ku şidetê bi kartînin, bêdengiya rewşenbîran ji bo xwe wek meşrûiyeta kiryarên xwe yên kirêt dihesibînin, ew wê bêdengiyê mîna destûrnameyekê û razîbûna ji xeta xwe dihesibnînin loma jî em dibêjin eger ku mirovê rewşenbîr di rewşên weha de bêdeng be, şirîkê wan kiryaran e, eger ew kiryar kuştin bin, rewşenbîr jî kujer e, bi kêmanî mirov dikare wî rewşenbîrî alîkarê kiryarên qetlê bihesibîne.
Bêdengiya rewşenbîran, bingeha civakek li ser tirsê avabûyî dadimezrîne; civakeke stûxwar, tirsonek, nexweş û girêdar.
Buhayê bêdengiyê gelekî giran e, dibe ku em di vê demê de encama bêdengiyê li Sûrî eşkere dibînin. Bêdengîyê diktatoriyeteke nîvsedsalî li wî welatî ava kir û nuha jî gel bi hemû hêza xwe xwe didiyê nikare zû bi zû ji kokê hiîne. Ev berhema bêdengiyê ye, ji xwe ez dibêjim ku sermiyanê diktatoran bêdengiye, sermiyanê tundrewan tirs e, lê yên ku fikra wan azad be û sînorên tirsê bin pê dikin, ne xema wan e kî aş e kî zîz e û dîwarên bêdengiyê hildiweşînin ew in yên ku rê ji ronahî û azadiyê re vedikin. Hedîseke pêximber heye dibêje: cihada herî mezin peyveke rastiyê di rûyê hakimekî sitemkar de ye. Her weha ew di hedîseke din jî dibêje: yê ku heqiyê nebêje û xwe bêdeng bike ew şeytanekî lal e. Kesê rewşenbîr jî, rewşenbîrê kurd wek mînak, hew ew du rê li ber wî hene, yan dê bibe borîzana azadî û wêrekiyê yan jî dê bibe şeytanekî lal, rêya sêyem nîne, eger hebe jî ew rêya kesên mirî ye.