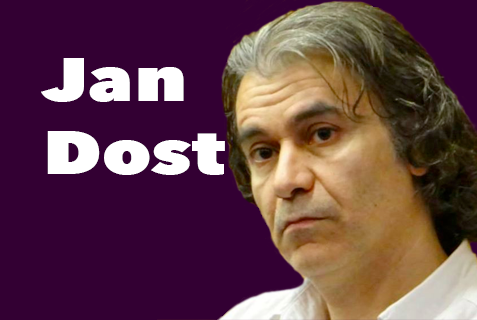 "Her kes dikare bibe şeytan. Her kes dikare bibe firişte. Her kes û bi taybetî ez".  Martin davis
Cesareta lêborînxwestimê:
Rexne û lêborîn herdu jî du huner in ku cesareteke mezin ji wan re divê, ez jî di xwe de wê cesaretê dibînim ku çawa rexneyan dikim dikarim wisa jî ji ber şaşiyên xwe ji kesên ku di heqê wan de şaş bûme lêborînê jî bixwazim.
Li vir ez dixwazim lêborînê ji birêz Rêzan Tovjîn bixwazim ji ber wan çend peyvên ne di rê de ku tucarî ne ji ferhenga min in û ez baş dizanim ku ew dijûnên kirêt ancex li kuçe û kolanan kesekî nezan û astnizim bikar tîne. Asta provokasyona ku ewî ez ji nişkêve dehfandimê çiqasî bilind be jî, lê heq nekiribû ku ew peyvên bêsewiye ji min derkevin. Xwezî min, heqareta ku li min bûyî wek gelek caran daqurtandiba û di rêya xwe de biçûma.
***
Min nivîsa birêz Mehabad Felat Arda Edeba Edebyatvanekî, di Amîdakurd de xwend. Mixabin wisa diyar e ku kes in hene hew li bende şemitandineke mirov in ku kîna xwe mîna jehrekê birijînin ser rûpelan yan di fezaya interanetê de belav bikin. Yanî ew berê li bendê ne û tijî bûne hema serê derziyekê maye ku wan biteqîne. Guman li ba min nîne ku helwesta Felat Arda helwesteke siyasî ye û ne li ser bingeha moralan ava bûye, û dema ku ew min mîna kesekî kêmedeb (û gelek sifetên din) bi nav dike û bûye "daweta wî û bi deh desmalan direqise" yan tew "serê govendê girtiye" ew dixwaze keda min î bi salan, xebata min î ji bo ziman û wêjeya kurdî, hemûyî bixe paş du peyvên ne di rê de ku di halê hêrseke mezin de hatine, veşêre. Ev neheqiya giran jî ne sûcê wî ye bi qasî ku sûcê perwerdeya civatê ye, sûcê fikra koçer-feodal e ku civaka me hîn di bin barê wê de ye û sûcê politiyekirina hemû aliyên jiyana kurdî ye. Gelo ev pîvan li ku heye, ku edebiyat tenê ji heqê kesê bi "edeb" e! Li kîjan welatî bûye pîvan ku kesekî li dijî filan serokî, bêvan partiyê, ellan nizanim çi û kê nikare bibe wêjevan û nikare roman û pirtûkan binivîse û ku binivîse jî ne hêjayî xwendinê ye!
***
Ekola Xanî di rexneyê de:
Ez rexneyên xwe eşkere dikim, ne bi çavên wî û ê din li tarîxa kurdî dinêrim, ne bi çavê partiyan li rewşa aktuel dinêrim, pir bi rihetî dikarim vî serokî û wî lîderî rexne bikim bêyî ku hesabê xetên sor û mor bikim. Îca ew rexneyên min di rê de ne yan na , ew mijareke din e. Ez qet ji şêweyê jiyana "şivan û kerî" hez nakim û dê her û her li dijî wê bim. Avakirina "mefhûmên pîroz" hilweşandina bingehên mejî û aqil e li ba min.
Dema min hin kiryarên Partiya Yekîtiya Demokrat li Sûriyê rexne kirin, dê hîn jî ku şaşîtiyên wan bibînim bikim, min dixwest ku destnîşanî çewtiyan bikim, ezê her û her mîna wî zarokî biqîrim "qiral tazî ye qiral tazî ye". Ez şopa kalkê xwe Ehmedê Xanî dajom, ewî berî ku osmaniyan, yan jî sefewiyan rexne bike, Mîr rexne dikir, civata kurdî rexne dikir. Ma qey ev tê çi wateyê? Ev tê wateya ku rexneya navxweyî, xwerexnekirin ya herî pêwist e. em li ser şêweyê reneyê li hev bikin nekin ew jî tiştekî din e. Ehmedê Xanî bi Mem û Zîna xwe û di hin helbestên xwe de, bingehê ekoleke rexneyî avakir. Ewî bi hişekî medenî karibû realita kurdan bixwenda û bigihişta encamin giring. Mîr bêtirs rexne kir, nekete bin tesîra jiyana koçer-feodal û negot: eyb e, şerm e, çawa be ew mîrekî kurdan e, hakimê me ye. Lê bi dengê bilind got:
Namûs e li hakim û emîran
Tawan çiye şair û feqîran?
Û got:
Miring hene aqil in ezîz in
Lê sade dil in di bê temîz in
Ekola Melayê Cizîrî:
Li rex vê ekolê ku rê ji hiş û mejî re vedike û perdeya eqîde û baweriyan û dogmayên pîroz ji ser çavan hiltîne, ekola Melayê Cizîrî jî hebû ku tenê pesnê mîr dikir û xwe li ber wî mîna mûriyekê didît:
Gerçî der dîwanê hezret, pur heqîr in şubhê mûr
Çeşmê te çeşmê Suleymanî, bi halê mûrî bî
Herweha eger muxalifekî mîr hebe divê stûyê wî bikeve ber şûr li gor bingehên vê ekolê:
Ê ne dewletxewahê hezret bit, ji nîva can û dil
Şubhetê ehlê şeqa ber qehr û azarê te bî
Her weha divê muxalifên mîr, ên ku pesnê wî nadin, li gor ekola Cizîrî di hebs û zindanan de bin:
Herkesê ne j`can duago û sena xwanê te bit
Girtiyê qeyda te û amancê nûbarê te bî
Dibe ku ev ji mubalexeyên şahiran bin, lê mîna ku hikmeteke budistan dibêje: raman dibin peyv, peyv dibin kiryar, kiryar jî dibin biryar û rêya hebûnê. Ev jî wisa ye tu bi dev û helbestan medhiyeyan bibêjî, tu yê rêyeke bindestî û stûxwarî û mirîdtiyê ji nûve vekî.
Ewqas:
Ewqas û bes. Ez naxwazim yeko yeko li ser nivîsa birêz Felat Arda rawestim, ku di gelek deveran de bêbextî û neheqî ye. Ya ku ez dixwazim dubare bikim ew e ku: yekrengî, yekfikr  ne ji kirasê vê dema me ya nuha ye. Kî ji xwe re bike kiras wê tazî bimîne. Ew kiras êdî riziyaye û nema tê lixwekirin, ez jî mîna kurdekî, ez nabêjim mîna rewşenbîrekî kurd ji ber ku xuyaye bi pîvanên birêz Felat Arda cihê min û rewşenbîrîyê di navbera van nenûnkan de ye  ""! lê ez mîna kurdekî, dê her û her rexneya xwe bibêjim, geh ezê rast bibêjim û geh jî şaşiyan bikim, tenê yê ku devê xwe dirûtiye şaşiyan nake, ez jî dê tucaran devê xwe nedirûm.
Not1: min dixwest vê nivîsê li gor usûlan bidim di Amidakurd de weşandin lê ez negihame adresên wê malperê. Eger amadekarên malperê ji kerema xwe bavêjin ser wê baş be.