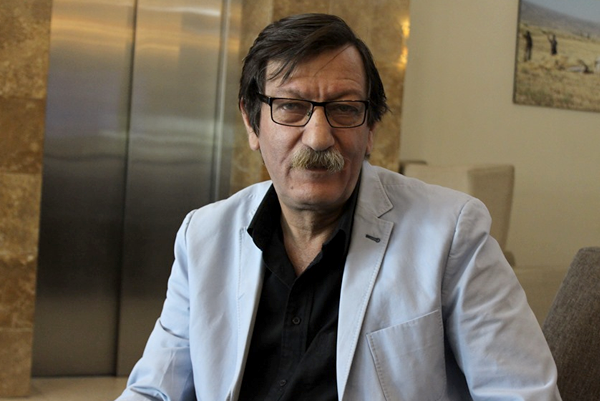 Li Yekîtîya Sovyet her biryarên jîyana miletên welêt ji Polîtbyûroya Komîtêya Navbendî ya Partîya Komûnîst dihat, ku bi hezaran zane û aqilmendên welêt bi şêwr, temî û fikirên xwe va alîkarên wê bûn. Lê dema Gorbaçov bi dêmokrasîya xwe û bi biratîya gelan va hat û got biryara jîyana me gerekê milet bi xwe bide, wê demê milet dest ji van aqilmend û zaneyan kişand û da dû "aqilmend û zaneyên" çêkirî, ku dengê wan bilindtir, bejina wan dirêjtir, sozên wan qerasetir bûn û… welat hilweşîya…
Hilbet, hêzên pir mezin di piş vê hilweşînê da hebûn.
Hemû nîşan hene, ku hêzên mezin di piş xirabkirina Kurdistanê, avanebûna dewleta serbixwe da jî hene, ku bi her awahî hewil didin ji hundur va, bi destî xayîn û neyarên me projeyên xwe pêk bînin. Û ew hêzên xurt bi sazîyên xwe yên ewlekarîyê û psîkologên xwe va hewil didin miletê me ji aqilmendên xwe dûr bixe û bike evîndarê kesên bi gotinên mezin û bi fikirên tarî, her mecal bi kar tînin, bona milet ji koka xwe biqete û banga biratîya gelan bide pêş, bona ji zimanê xwe dûr bikeve, zimanê desthilatê biaxive, ji alaya xwe dûr bikeve, alaya çêkirî bilind bike. Û dijmin herwiha wisa kar dike, ku bi destî xayînên me miletê me yê paqij û mêrxas ji bin kontrola wê dernekeve, heta rêberên ji alîyê dijmin va sazkirî ser serê xwe qebûl bike.
Dijmin çawa bi ser dikeve?
Dijmin rind zane, ku milet çiqas paqij û welatparêz be, ewqas zû dikare bawerî bi sozên mezin bîne. Wek nimûne: di salên 1970î da li Bakur gelek partî, rêxistin, komele, sazîyên kurdan yên xurt hebûn, ku rewşa wê demê didane ber çavan û daxweza otonomîyê an jî federalîzmê ji dewletê dikirin. Û dewlet ji tirsa ku dinya wê wana di zordestîyê, pêpeskirina mafên mirovan da gunehkar bike, nikaribû wana ji holê rake. Rêya tek tenê ku milet xwe ji wan partî û rêxistinên welatparêz dûr bixe, ew bû, ku ji sozên wan partîya zêdetir soz bide wî. Û ji nişkêva partîyake kurdan peyda bû, ku ne otonomî û ne federalî, lê serxwebûn dixweze. Ma milet wê bo çi bide dû kesên otonomîst û federalîst û nede dû serxwebûnxwazan?
Û dema milet xwe ji partîyên welatparêz dûr xist û xwe li dora partîya çêkirî civand, demek hat ku ew êdî dişibîya pakêta şîr, ku dema nû ye, dikarî vexwî, lê ji filan rojê wêdetir nikarî vexwî, ji ber ku dibe jehrî bî. Ango şîrê teze "serxwebûn" bû, dema kevin bû "bû jehr" û gerekê dest jê bikişînî.
Û dem hat, ku desthilat gerekê Kurdistanê xirab bike. Fikirî, çawa xirab bike, ku dinya ji xwe ra neke dijmin? Û rê dît! Riya kolana xendeqan. Ji xendeqên pêşin bajar wêran bûn, bi dehan kes hatine kuştin, bi hezaran bûn penaber, milet mal û milkê xwe hîşt û ji warê kal û bavan derket, berê xwe da xerîbistanê. Û xendeqa pêşin bo wê rêxistinê nebû ders ku dest ji wî karî bikişîne. Ji dijmin ra lazim bû zêde xendeq bêne kolan, bo zêde bajar wêran bibin, zêde kurd bêne kuştin û zêde kes terka welatê xwe bide. Û kolan…
Dijmin ji vê jî têr nebû, di projeya wî da wêrankirina perçeyên din yên Kurdistanê jî hebû. Bi xwe nikaribû bi leşkerî biketa welatekî din, jê ra sebeb lazim bû. Û sebeb çê kir: -Li van welatan "terorîst" hene, em gerekê şerê wan bikin. Û ketinê… Kuştin, wêran kirin, xelk kirin penaber…
Ew "terorîst" li wan welatan çi dikin? Li Başûr meqeran çê dikin û ji niştecîyê başûrî ra dibêjin: -Tu nikarî ji gundê xwe herî gundê birayê xwe. Li Rojhilatê bo karê xwe maeşê ji desthilatê distînin bona bi Haşd-î Şaabi ra tevayî Şengalê ji bin tesîra Kurdistana Başûr derxin û bikine di bin desthilatdarîya Îraqê da. Li Sûrîyê daxwezên dijminan pêk tînin: -Ser demekê rêvebirîya herêmên we bira di dest we da be, ser demekê li her deran mektebên kurdî vekin, bo tevaya milet bi we ra be ku hûn ji bin kontrola me dernekevin. Û roja ku Amêrîka ji we ra got: -Emê çekan bidine we bi şertê ku hûn nebêjin em PKKyî ne,- rojtira dinê wêneyê serokê xwe hilgirin û li kolanên Kurdistana Rojava bimeşin. Li Bakur banga biratîya gelan û parastina yekîtîya axa Tirkîyê dikin.
Çi hewcedarîya van yekan hebû?
Dema alaya me hebû, çi hewcedarîya çêkirina alaya nû hebû? Dema gotina "pêşmerge" hebû, çi hewcedarîya gotina "gêrîlla" hebû? Dema zimanê me heye, çi hewcedarî hebû karê xwe bi zimanê dijmin bikin? Bo çi ezê "Kurdistana Rojava" bikim "Rojava", pişt ra jî bikim "Bakurê Sûrîyê"? Ev hemû karê psychologist û psychiatrist yên dijmin in, ku pêşnîyara wan a here serketî ev bû: serokekî din hilnebijêrin, ji ber ku navê serokekî ketîye guhê xelkê û tê da mohr bûye, eger serokekî din be, guhê fanatîkên wê rêxistinê wê wî navî qebûl neke û tirsa jihevbelabûna rêxistinê heye.
Ez bo çi dijî dêmokrasîyê û dijî yekîtîya kurda me…
Yekîtîya milet çi ye? Ez û dewletnexwaz, xwedîyê kolana xendeqan, parastvanê yekîtîya axa Tirkîyê, kesên dijî alaya Kurdistanê û dijî zimanê kurdî gerekê bibin yek. Encama wê yekbûnê wê bibe çi? Ji ber ku ewana bi jimara xwe va pirtir in, di her dengdaneke bi awahê dêmokrasîyê da wê zora min û kesên dervayî xwe bibin. Ango, ezê bê hemdî xwe bibim şirîkê pêkanîna daxwezên dijminê xwe. Hilbet, heqê min heye di dengdanê da dijî wan daxwezan derkevim, lê ewê pere neke. Bi kurtî, eger berî yekîtîya di nava milet da nîvê kurdan daxwezên dijmin pêk dianîn, piştî yekîtîyê jimara wan dibe tevaya milet.
PKK û Gêrîlla weke ku ji du miletên cuda û ji du welatên cuda ne.
Gerekê hewil bidin zarokên me yên paqij û mêrxas ji van kesan dûr bixin. Weke ku ev kes û zarokên me yên dilsoz ji du miletên cuda û ji du welatên cuda ne.
Abdullah Ocalan: -Ez di xizmeta dewletê da me, fırsend bidin min ez zêdetir xizmet bikim. Nabe ku Kurd bibin dewlet. Ji ber ko wê çaxê dê bişibe dewleta Îsraîl.
Cemîl Bayık: Me dev ji fikra Kurdistana serbixwe berda.
Selahattin Demirtaş: Em dewleta Kurdî naxwazin. Ti armancek me ya bo parçekirina Tirkî tine ye.
Duran Kalkan: Bi navê Kurd netewek tine ye.
Salih Müslim: Dema fikra serxwebûna dewleta Kurdî derbas bûye. Em ji boy Sûrîyeke demokratîk şer dikin.
Riza Altun: "Avabûna dewleteke kurd ewê probleman zêde bike. Em doza kurd wek dozeke netewî ya teng nabînin. Her dewleta ava bûye, bûye sebebê probleman, lema jî em li dijî avabûna dewleteke kurd in.
Hatip Dicle 1: Me fikra serxwebûna dewleta Kurdî avêt teneka çopê.
Hatip Dicle 2: "Heke wekîlên HDP ji meclîsê bên avêtin, wê cudabûn di serê Kurdan de bê vejandin û Kurd dê doza cudabûnê bikin. Yekrêzî û yekparîya Tirkîyê erka me ye.
Abdullah Ocalan2: "Heger qelema me bişikînin û me qir bikin, hin partiyên kurd amade ne ji bo werin li şûna me rûnin. Wê doza daxwazên girantir li Tirkiyeyê bikin. Haya Tirkiyeyê jê tuneye bê di nav xetereyeke çawa de ye. Kurd ê siberojê bibin xwedan dewleteke netewî."
Nursel Aydogan: "Heger ne ji PKKê û Ocalan be wê Emerîka û Ingîltere dewleta Kurdistaneke mezin biafirînin. Ocalan li himberî kurdên herçar perçeyan ku nebin yek, kelemê herî mezin e! Heger PKK ji holê fik bibe wê li Rohilata Navîn dewleteke mezin a kurdan çêbibe…". "Emperyelîstên Emerîka û Îngilîzan xwestin ku dewletek Kurd ava bikin. Me (HDP) û PKK pêşîya vê girt. Hêza serete a ku li pêşberî avakirina dewleta Kurd astenge, ramanên Ocalan û PKK ye. Divê hikumeta AKP di vî warî de xizmeta me (HDP) bibîne. Ne ku qîmetê bide Barzanî, divê bide me"(!)
Sibel Yiğitalp: "Li henber wan yên ku dixwazin welatê me perçe bikin, li henber faşîzmê, bi Kurd, Tirk, Ermenî, Asûrî, jin, mêr li cem hev, bi hev re, ji bona jiyanek hevpar û hurmetkar, edresa rast HDP ye."
PJAK li Rojhilatê Kurdistanê dibêje; "daxwazîya me demokratîkbûna Dewleta Îranê ye."
PYD li Rojavayê Kurdistanê dibêje; "daxwazîya me demokratîkbûna Dewleta Sûrîyê ye"
PKK li Bakurê Kurdistanê dibêje; "daxwazîya me demokratîkbûna Dewleta Tirkîyê ye"
Hevserokê Desteya Rêveber a KCKê Cemîl Bayik: "PKKê ya di roja me de cuda ye. Ne Kurdistaneke serbixwe, em êdî konfederasyona demokratîk û xweseriyê dixwazin. Mîna çandên din, çanda Kurd jî divê karibe bi awayekî azad bi pêş bikeve".
Hevserokê KCD'ê Ehmed Turk: "Damezirandina Kurdistaneke azad û serbexoyî bo Kurdan xwe kuştinî ye-întîxar e."
Hevseroka KCK'ê Besê Hozat (Hulya Oran-rêje): "Armanca me ne damezirandina Kurdistanê ye, me 13 sal berê mijara netew-dewletbûnê ji bernameya xwe derxist.
Parlamenterê BDP'yî Sirri Sureyya Onder: "Ataturk kesayetîyekî herî aqilmendê yê sedsalê
Ew şexsîyetekî herî bi qîymet e."
Parlamenterê BDP'ê yê Hakarî Adil Zozanî: "Ala Tirkî emê hildin jor."
BDP dibêje: "Hîn derdor naxwazin ku Tirkî xurt bibe, em li gel xurtbûna Tirkî ne."
Serokê PKKê Abdullah Ocalan ji Ewrupayê re: "Pirsgirêka Kurd, karê Tirkî yê hundirîn e, we têkildar nake".
Ocalan bersîveke pirsa rojnamevana tirk ya navdar İlnur Çevikê ha dide: "AK Partî xurt dibe. PKKyî gerekê bi hêzên kemalîst re tevbigerin û ji nûve şer destpê bikin."(!)
¤¤¤
Împêratorîya Osmanîyê hilweşîya, çend dewletên nû çê bûn, di nav wan da Îraq û Sûrîya yên dagirkarên Kurdistanê. Yekîtîya Sovyet hilweşîya, 15 dewletên nû çê bûn, di nav wan da Azirbêcana dagirkara Kurdistana Sor. Dewletên dagirkarên Kurdistanê jî dikarin hilweşin û dikare dewleta Kurdistanê jî ava bibe. Tenê bi şertekî dikare Kurdistan ava nebe: -eger kurd bi xwe nexwezin. Xuya ye dijmin bi destî xayînên me hewil dide wê meselê jî çareser bike û heta dereceyekê bi ser ketîye. Em gerekê bi tevaya hêza xwe derkevine dijî kesên ku hewil didin vê daxweza dijmin pêk bînin.