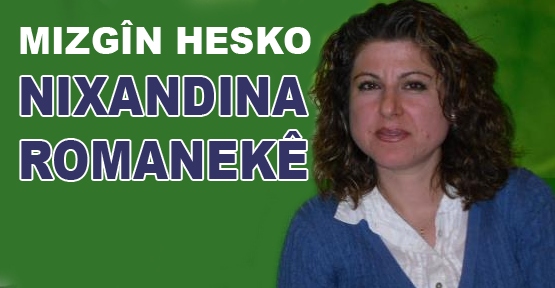 Bêguman, Roman ,ji pêwîstirîn alavên ragihandina hişmendî, derûnî, felsefî, û avakirina giyanên bi rêk û pêk in.( Giyanên di asta pûnijînê de) Herwiha ew ji pêdiviyên civakê ne…di asoyên wê de Mirov dikarî dest bi firîneke azad û aqlan e bikî û di nav tireh û mêwan de, ji xwe re hêlîneke germ , û aram bipejirîn e..bi wata mala mirovahiyetê, ji bo bilindkirina hest û nestên mirovn e, û avakirina mercên wê yên nirx buha  ku divê Mirov dest bi xwe bikî,,ku di hinavê xwe de, di hiş û ramanên xwe de azad be, Mirov be.Romannivîs ,yê xwedî helwest, dikare bi vegotina xwe ya
ç
alak û aktîv, vî mercî pêk bîne …ne nivîs ji bo nivîsê, lê ji bo avakirina Mirovekî durist û pak, ew dikar e bi hemî alavên xwe pirsan arasteyî xwêner û civakê bike,helbet dê li benda ti bersivan jî nemîne…ta radeya ku civak û xwêner wî Peyamber bipejirînin.

Ma nivîs ne peyam e..?
Hêdî, hêdî Kurd jî dibin xwedan Roman û Romannivîs, û ji wan jî hin xwedanên xameyên herikbar , şaristanî, û çalak. Ji bo guherîneke berbi , baweriyên û helwestên paktir, duristir ve, berbi ronakbîriyeke geştir û kûrtir ve.

Ji Romannivîsên me jî, mamostayê birêz Sebrî Silêvanî, ku ji bilî helbest û hin lêkolînên hêja çend Roman jî afirandine, ji wan :

Ava mezin-kêlîka ku Masiyên xwe tî dihêle-2004.

Bîst sal û êvarek 2004

Meryema-2007.

Sîfra Silîvî 2010.
Helbet ne lêkolîner im, lê Meryema ez Jin ( Mirov ) berbi êşên xwe ve birim, berbi arîşeyên dijwar ve kişandim,
Meryema – yan jî Keçejinek ji zemanekî din wekî ku Romannivîs ew wiha şîroveke kiriye, daye nasîn û binav  kiriye .
Meryema- yan jî Erxewana (gul hinar ) ku di payîzê de na giha bibe Hinar  yan jî şikestina baskên asoyê  wekî ku ez ê wê şîrove û binav bikim.
Meryema ji nav û bi şûnde, herwiha û bi dîtina min, ev nav ne ji ber xwe ve hatiye ; xwe feriz ne kiriye li ser Romannivîs, lê belê wa diyar e ku ew î ev nav bi pîlan û tektîk hilbijartiye  
 Gelo çi têkilî dinav bera Meryema Sebrî Silêvanî û Meryema dayika pîroz de heye ……..?
Ev ê pirsyarê ez ê li vir li qelem dim û incax xwêner û di hiş û giyanê xwe de wê bibersivîne!
Meryema û di civaka rojhilatê de , tekez ne diyarde ye…nemaze ku em bizanibin ku her sal hijmara Jinên xwekuj û yên tên kuştin, binaxkirin û tawanbarkirin her û her zêde dibe û kêm nabe. Bi herhalî jî ew ne rewşeke awarte û cuda ye, ji mêj ve , ji dema ku Jin ji textê Xwedawendiyê hate daxistin ew li rasta pirsgirêkan û çewisandinan  hat…sedemên vê têkçûnê jî pir in , bêhijmar in ji wan jî bêhêzî û bêgunehiya zaroktiyê,SADIYA  mêrên rojhilatî ku her û her ne xursen din , her yek Impiratorekî di hinavê xwe de  hîs dike, paşketina civakê bi xwe, ragihandinên olî yên  bê rêk û pêk "ku piraniya mêran wan çewt û li gor berjewendiyên xwe şîrove dikin , perîşanî, xinizî,  lixwedî derneketina desthilatdarê û qelsiya jinê bixwe û nezaniya wê ku pirê caran, jin bixwe serê hev dinukilînin ,hev tawanbar dikin û dibin daqoqên serê regezê xwe û hwr.
 Meryema a sî û şeş salî li raberdû vedgerê , ne ku vedgerê . ma kînga êşên wê tên jibîrkirin, lê ew wan xemên dijwar ji Narînê re , ji hevaleke dilsoz re vedibêje 
" Mirinê dayika min, ji min stand û Mencolê jî bavê min "…R27 
Hîna sêzdeh salî bû , gava ji layê Berazekî bi rengê Mirovan tête tecawizkirin, û hêviyên wê yên keçkaniyê têne serbirrîn, xewnên wê têne sêdarkirin . Meryema di oqyanosên xwînê de nuq dibe ,lê ti kesî dilpak li hawîrdorê xwe nabîne, tevî felekreşiya xwe jî, bê deng dimîn e..ma helbet dê kî li wê û li êşên wê xwedî derkevê, kî dê hevalbendê zarokan be û dê çivîkeke sêzdeh salî
Ji davkên tolazan derxîne, dê kî wê xalxaloka temen biçûk ji tevna pîrhevoka jinbavê rizgar bike.
Kî dê wê ji nav penc, sihrebazî û tolaziya Kabirayê ne Mirov derxîne…..? 
" Erê , kî rêk da Kabirayê û hemû rêk li ber min girtin, kî hêz da wî û ez bê hêz hiştim "R40
Li vir ne bitenê Mirov û kelogirî li rasta êşên keçekê tê, lê mixabin û bigiryaneke bê rawestan pêrgî şikestina ast û normên mirovahiyetê, têkçûna Welatekî, çirandina perdeya keçîniya Welatekî ku keç û kurên wî ji neçarî xwe di himbêza wî de biyan hîs dikin û di nav bagerên havîbûnê de semaya mirinên sedsala bîst û yekê dikin.
"Kî bersivan bide, gava ku bêhna sirgûnê henasegeha min tijî dike, perdeya tenhistanê diqetîne, derdeseriya demsalên bê daw dighîne radeya bînahiya du çavên qerimî, asoya derûnê vedimirîne û agirê dojehê tê de hildike   ? " R52.
Gelo ew Welatê ku Sebrî Silêvanî wî dinerixîne çi Welat e û çima asoyên zelal û vekirî têde nîn in, çima şemalokên wî vemirî dimîn in…..?
 "Ev parçe ax rizgar bû, belê ev parçe Mirov hîn jî dagîrkirî maye "R66.
 Gelo çi têkiliyên rewanî di navbera Romannivîsên  rojhilatê de hene…ev eger em bizanibin ku rojekê û di Romaneke xwe de; Romannivîsa Ereb  Ahlam Mistexanimî jî dibêje:
" Welat,…? çawa me ew (Welat) binav kir, ev ê ku di her goreke tê de tawanek heye, di her nûçeyekê de,  kederek heye.
Welat….? çi Welat e, ev ê ku me dixwest em ji bo wî bimirin û va em li ser destên wî dimirin"
   Erê … têkilî heye, ku em hemî jî neviyên vî rojhilatî ne, neviyên havîbûn û sirgûnê ne……….!
 Meryema, naxwazê cîhanê biguherînê û ya rast ew vê yekê divê, lê berbi mirovahiyetê ve û bilindkirina atmusfêrên wê, lê Sebrî vê yekê li ser zimanê Meryema xwe na bêje.
Ji ber ku û bidîtina Meryema cîhan bi xwe diguherê û bi ser vê yekê de ne berbi pakbûnê ve lê belê berbi herimandinê ve. Bi herhalî Sebrî divê û bikêmanî cîhana xewnên sereklehenga xwe biparêze.
 Meryema … li vir û wir nerîn û boçûnên xwe di derbarê civaka mêran û desthilatdarê de dest nîşan dike û vekirî bi wêrekiyeke balkêş dibêje, çawa be jî dîse civak kesên yan jî bûnewerên mê na hebîn e, nemaze ku em bizanibin ku barên wan girane û civak bi giştî berbi nêrbûnê ve dibeze û heman civak jibîr dike ku regezê mê yê ciwan û afrêner , bi wata nîvê xwe li paş pencereyên tarî veşartî û girêdayî dihêle.
 Gelo çawa dayikên şikestî dê nifşekî şikestî nêr û mê bi xwedî nekin, çawa  ew afrîdeyên girêdayî û dîl mayî dê refek ji balindeyên azad perwerde bikin..?
" Narîn, naxwe , em keçên kezî kur çi bikin…? R13.
Meryema ku ji havînê hez dikir, lê ji sêzdeh saliyê de, havîn jî li ber sar bûye, havînê ne dikarî li hember hêza bawerî û hezkirina wê xwe ragire….ji lewra û ji nuh ve ew li demsala pênçan digere….û li pêrgî  wê jî tê, di rêka Hunerê de…Hunera şêwekarî ku di kavilî de birîn ne bi zimên tên gotin; lê bê reng û bi reng ji dayik dibin. Di Hunerê de jî  têgihên nuh , serdestiya hest û nestên rasteqîne, displînên mirovan e., parastina xewnan, teybetmendiyên ademîzadan, sozdarî, cigersozî , rastgoyî, ne duriwîtî, û peydakirina zagonên şaristanî, ne ji bo Mirov bi tenê lê belê  ji bo parastina lawiran û jîngehê jî.
 Belê Meryema kavilan nîgar dike û di wan de jî şikestina baskên zaroktiyê vedibêje, lê di heman katî de, Huner asoyên berfereh tijî hêvîkulîlkên rengîn li ber vedike. Ji lewra pirê caran û da ku ji hin hestên havîbûna giyanî rizgar bibe ,ew di xelwetgiha xwe ya sawêr û aram dimîne lê dibînê ku ew jî ne tim hêlîna herî sozdar e. Mayina di paş dîwarên qalinde ne çareseriye.
 Mereyema êdî bi kavilên xwe di Pêşengan de amade dibe, ma dilê wê dê raweste….?
Helbet na, lê her cara ku gupgupa dilê xwe dibihîze , careke din li rasta şikestinan tê …ma kî gotiye ku dê dîmenê azaran bi dawî bibe.,….?
Destpêka firînê, li rasta Hejarê Pêşmerge tê , ku ta radeyeke baş, xwedan karîzma ye, lê hêdî hêdî têderdixîne ku ew bi xwe jî ne samanê xwe ye, lê li saman , milk û amlakan digerê ..!
 Piştî hejar ew di Pêşengehê de pêrgî Islamê kominîst tê ( li vir jibîr nekin mebesta Sebrî Silêvanî û van navên awarte ku hin agahiyan radihghîn in ).
 Islamê kominîst jî xortekî spehî, çav şîn û ji hezkiriyê tabloyan e… bala Meryema yê dikişîne û jê hez dike, lê ew evîn jî û ji ber hin têgihên mêran e têk diçe û Islam di jiyana wê de ku bi hevokeke seyr destpêka dîroka wê bi xwe re dinvîsîne , lê careka din bi hevokeke dîse seyr dawî li evîna pîroz û nirxdar tînê.
 Kesê din jî Hawarê Islamî ye , ku ji xwe dê li hev nekin. Ew di riya xwîşka xwe re wê nas dike û jê hez dike lê qet wê bê desmal, nimêj û rojî na pejirîn e, û her dixwaze ku her tiştên di Pirtûkên pîroz û di Sunetê de, careke din di derhêla rojan de , ferz û peyrew bike.
Û dawî ew li rasta evîneke pak û durist jî tê , li rasta Kirmanc ê kamîrevan , û piştî ku ew ji hestên xwe ji bo wî piştrast dibe , daxwaza jiyaneke hevbeş û bihevre dike , lê li wir jî û mixabin ew xewn dihilweşe ….Kirmancê nikarê wê mehir bike, ji ber ku ew jî ji qurbaniyên şerê birakujiyê ye û birîndar e (êdî ne ma mêr e )
 Û dawî çi Meryema…?
 Û li vir  Roman bi dawî dibe , lê Meryema pirseke vekirî , li benda çareseriya xwe di hiş û giyanê civakê de dimîne…lê ma  ta niha me çend Meryema û çend Kirmanc hene…?
Me kurdan ,  ta kîjan radeyê dest daniye ser birînan….û eşên miletê xwe veguhestin e…?
 Bi herhalî , û hêjaye gotinê ku Meryema bi rewanbêjeyekê , bi hişekî dewlemend û vekirî hatiye ristin, bi hizirbîriyeke ronak û herikbar herikî ye. lê  Meryema dê hîn jî bi niqtepirsê bi dawî ne be, dê Romanek bi tenê hêsrên wê zuha neke.
 Gelo çima rêzdar Sebrî alîgerê hemî Meryemên kurd û rojhilatê, û di dawiyê de dixwest dawiya wê bi wî rengî bi dawî neyênê…?
 Gelo çima Romannivîs wiha Meryema xwe ji pêsîra êşê ku ji vexwarina azaran ew firşik bûye, wê careke din berbi himbêza şikestinê ve sernişîv dike û careke din lê xwedî derdikevê û wê dilekî bijen di nexşeya hebûn û nebûnê de saz dike..?
 Helbet û bidîtina min ew î her û her dixwest hevoka zaniyarê cîhanê Lîster Word dupat bike :
 "Ew diyarde û bi tevahî a ku pakbûna regezê nêr li hember regezê mê dibîne,xapîn e û şerm e di aniya mirovahiyetê de " L.W.
 Gelo kî jin a Xewdawend û kînga ew ji textê bilind daxist û ew perî ya basik şikestî gevizî di nav leylan û moranê de hêla…?
 Ma mebest çibû ji sêva buhiştê….?
Gelo kî zagonên rojhilatê dane çêkirin …?
 Û dawî .min divê ku di bîreweriya xêneran de û nemaze rewşa jina kurd a vê gavê  bi evan pirsiyaran jî bijenîn im:
 Hêjayan, ma Meryema Sebrî Silêvanî a duh ne heman Meryema me teva ne, mebest jî ev Meryema ku niha li bakur , mil bi mil li nik Şêrê Meyrê..! û li serê çiyayên bilind, dinav berf û bahozê de pişt girêdayî û rext û çek di destan de ,doza welatekî azad û buhiştîn dike..?
Ma ne heman Meryema ye a ku niha di zîndanan de û di gerva birçîbûnê de baskên azadiyê diferidîn e…?
Ma ne heman Meryema ye a ku niha li rojhilat tête sêdarkirin û kevirbarandin…..?
Ma ne heman Meryema ye a ku niha û piştî desthilatdareke fîdral û xuro kurdî tête çewsandin û bi navê namûsê tête binaxkirin jî….?
 Û ma ne heman Meryema ye a ku niha li rojava û li Serê Kaniyê û dibe spê li Tirbespiyê yan li Qamişlo yan Dêrikê, Kobanê û Efrînê, malwêran bibe û gurên har û dev bixwîn destdirêjî bedena wê a pîroz bikin…?
 Û  çawa  Romannivîsê me yê hêja dixwest wê bi dawî bêne û ne dibû.. .pirsên min jî dê bi dawî nabin.!
Ji dil û can ez Sebrî Silêvanî pîroz dikim û daxwaza serkeftinê jê re dikim. 
 15 ê Mijdara 2012-an                                                                      
Mizgîn Hesko.